June 3, 2019:
New Postmasters' President calls for more Government services through Post Offices
Tramore Postmaster Seán Martin has been newly elected as President of the Irish Postmasters' Union (IPU).
Mr. Martin has been Postmaster in Tramore Co. Waterford for 27 years and a member of the IPU Executive Council for 20 years, including 12 as Treasurer.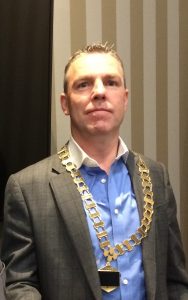 Seán Martin said his priority will be to continue to develop the role of the Post Office, particularly in becoming 'the State on Your Doorstep' for all essential Government services.
"While I don't underestimate the challenges involved, I want to assure Postmasters and communities that expanding the range of State services available at Post Offices will be at the top of my agenda.
"I want communities to continue to benefit from both the social and economic value of their Post Office. We know that money collected at the Post Office is spent locally and the lifeblood of other local businesses.
"The future of Post Offices hangs on Government policy. Post Offices must be supported to diversify their over-the-counter offerings. Many additional services have long been identified such as car tax, drivers' licences, Leap cards and identity services.
"I am calling on every Government Department to publish a plan with details of additional services which will be provided, along with a timeline of when they will become available."
Mr Martin also reminded the public of the importance of using their Post Office.
"The Post Office is one of the last institutions offering five and a half days of face-to-face service where the public can collect their welfare payment, pay their bills, buy foreign exchange and do many more financial and postal transactions.
"Call in and your local Postmaster will only be too happy to transact your business confidentiality.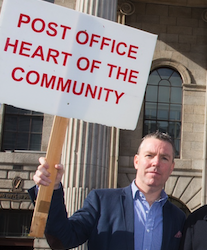 "I understand the frustration in some communities, where the Post Office has closed in the past year, however consolidation was necessary to ensure survival of the remainder of the network.
"If Government does not take a serious level of initiative, and take it very soon, further large-scale closures are inevitable – and for those remaining a Public Service Obligation (PSO) model will become necessary," Mr Martin said.
During the past year Postmasters have worked with An Post and Government on a major transformation which has seen the Network reduce by 152. It now comprises 911 Postmaster and 45 An Post run Offices.
A new contract has been introduced for the majority of Postmasters, and An Post has rebranded the Network and introduced new financial services.
IPU General Secretary Ned O'Hara welcomed Mr. Martin to the role and wished him every success: "Sean Martin is highly committed and experienced on all the issues involved. I look forward to working closely with him. I would also like to thank ongoing IPU President Paddy McCann for his long and significant contribution to our Post Office Network."
Further Information
Ronan Cavanagh, Cavanagh Communications: (086) 317 9731.